PARTICK AND THORNWOOD IDEAS FUND GRANT
4th October 2021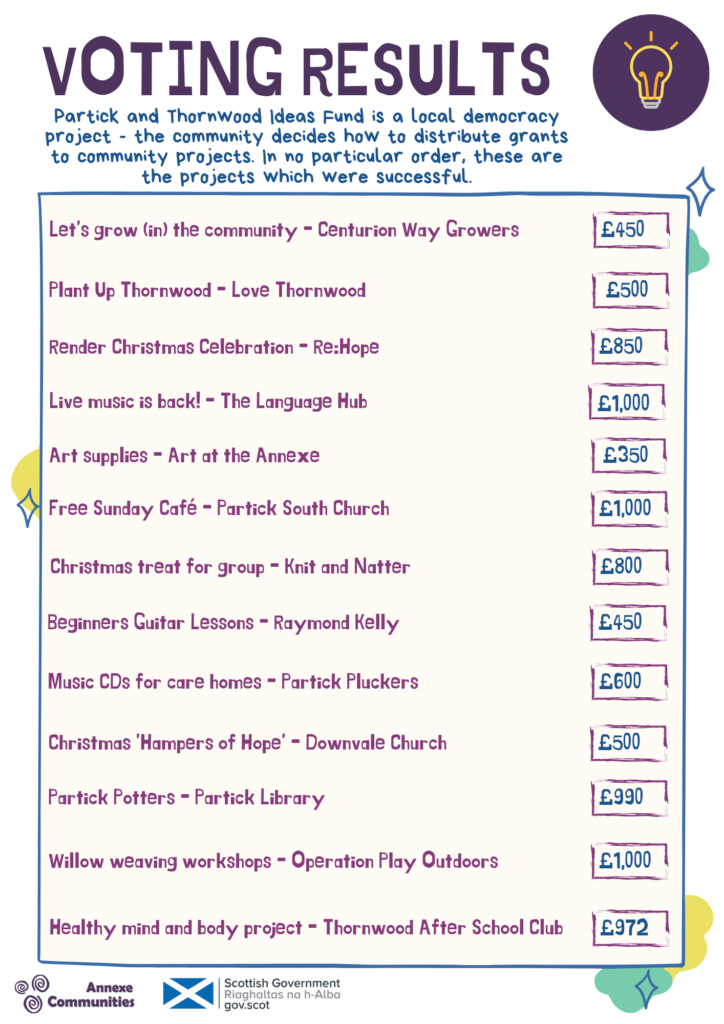 We have been lucky enough to have been awarded a grant from the Partick and Thornwood Ideas Fund to host community workshops in 2022.
During lockdown we have seen our waiting list swell. At the moment being such a small plot sadly we can't accommodate everyone asking for a space. Therefore, we have decided to do something to help those in the local community who want to grow for themselves. Hopefully this would also benefit other local Partick growing groups, as well as our own members at the same time.
We plan on holding workshops for the local community hosted by experts and although we may not be able to offer many spaces within our growing space as our area is tiny, we plan to put up a series of tutorials on our website for everyone to access – www.centurionwaygrowers.org.uk .
These workshops will be tailored to helping people make the most of their available limited city centre space in order to grow, and also teach and educate people who are lucky enough to already have a bed at the site how to make the most of their plots and enable them to pass on their newly acquired skills to anyone wishing to learn how to grow successfully. We will all then be able to offer support and advice to local people in need of help with growing their own food within the confines of their limited available space.
Workshops would cover basic preparing to plant, what to grown and utilising small spaces for growing. We would hopefully be able to host them, COVID permitting at the beginning of next year, before the start of the 2022 growing season.